Universiti Sains Islam Malaysia (USIM) recently received a courtesy visit from the Education Attaché of the Libyan Embassy to Malaysia led by Dr. Aiman El-Mahmoodi.
The embassy representative was welcomed by Vice Chancellor, Professor Dr. Sharifudin Md Shaarani, Deputy Vice-Chancellor (Academic and International), Professor Dr. Mohd Radhi Ibrahim, Deputy Vice-Chancellor (Student Affairs and Alumni), Professor Dr. Adnan Mohamed Yusoff and University Management Committee.
This visit provided an opportunity to discuss various potential collaborations in the academic field and the future of academic networks for prospective students from Middle Eastern countries. These include the Libyan Embassy's plans to offer educational scholarships for Libyans to pursue higher education in Malaysia, provide short-term training/courses, and other academic activities such as student exchange programs between the two countries.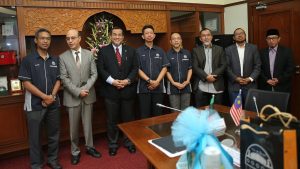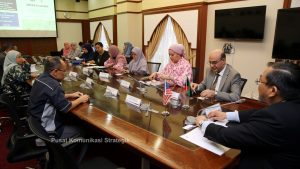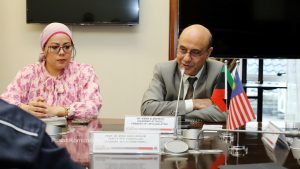 Interested in USIM's achievements in research activities, primarily through the research activities of the Ibnu Ummi Maktum Research Center (UMMI), which is a research center for people with disabilities (OKU) based on the Naqli and Aqli approach, the Libyan Embassy also gave a positive reaction, especially in the effort to place prospective students with disabilities to continue their studies at USIM.
This cooperation, if it can be realized, will be able to reinvigorate the presence of international students, especially from Libya, to USIM and strengthen bilateral relations between related educational institutions, which is in line with the efforts of both countries in revitalizing internationalization activities in the academic field that have been hindered for almost two years due to the COVID-19 pandemic.
To date, USIM has more than 300 alumni from Libya.
Also present in this courtesy visit is the Libyan Education Attaché Advisor, Ms. Norhawaty Mansor, Director of Centre for Academic Management, Prof Dr. Amir Shaharuddin, Director of USIM A'lamiyyah, Dr. Fauziah Hassan, Director of USIM Research and Innovation Management Centre, Associate Professor, Dr. Nurlida Basir, and senior university officials.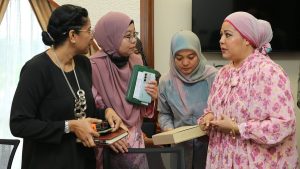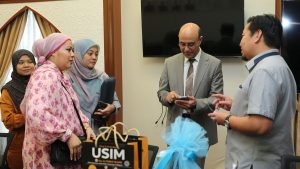 Prepared by:
Nor Fadzlina Azahari
Public Relations and Media Unit
Strategic Communication Centre (StraComm)
Universiti Sains Islam Malaysia