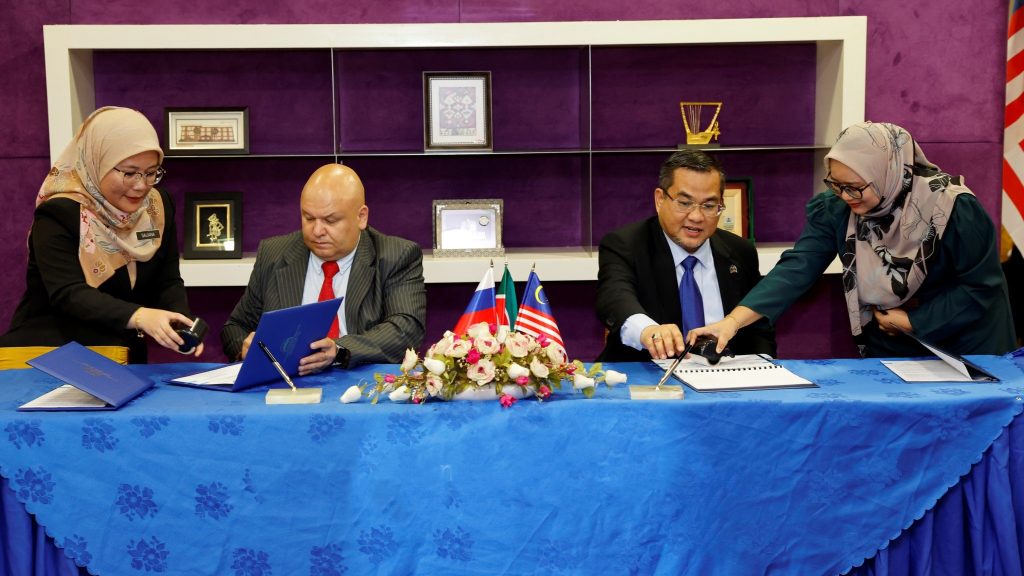 Universiti Sains Islam Malaysia (USIM) recently signed a Memorandum of Understanding (MoU) and a Memorandum of Agreement (MoA) with Kazan Federal University (KFU), Tatarstan, for a duration of five (5) years, focusing on the development and implementation of educational programs, particularly in the field of Islamic banking and finance.
Through this strategic collaboration, USIM will offer short-term programs, professional certifications, and academic degree programs in the area of Islamic Finance to partner institutions. Additionally, this partnership also allows for the creation of opportunities through student exchange programs, including the provision of course offerings. This includes opening avenues for students interested in participating in mobility programs such as the Global Islamic Student Outreach (GISO) or other international visits.
In his welcoming speech, Prof. Ts. Dr. Sharifudin Md Shaarani, Vice-Chancellor of USIM, highlighted USIM's academic expertise in the fields of halal and Islamic finance. He emphasized that the strategic collaboration with higher education institutions in Tatarstan could contribute to the broader development of the Islamic finance sector and have a positive impact. This collaboration also opens doors for USIM's academic staff to expand their global network in this field.
During the signing ceremony, USIM was represented by Prof. Dato' Ts. Dr. Sharifuddin Md Shaarani, while KFU was represented by Prof. A. Kh. Gimutdinov, a representative of the Head of the Republic of Tatarstan.
The event was attended by Khairil Azwan Abu Mansor, Chief Assistant Secretary of the Ministry of Higher Education, Deputy Vice-Chancellor (Academic and International) of USIM, Prof. Dr. Mohd Radhi Ibrahim, Dr. I. G. Khadiullin, Minister of Science and Education of the Republic of Tatarstan, Mr. Aleksei Dobrinskii, Counselor of the Russian Embassy in Malaysia, and a delegation from KFU.
As additional information, this collaboration is a follow-up to the official working visit of the Minister of Higher Education, Datuk Seri Mohamed Khaled Nordin, along with several local universities to the Kazan 2023 Forum in Tatarstan in May last year.