European Community Action Scheme for Mobility of University Students at Suleyman Demirel University (SDU) Turkey (2019-2021)
Suleyman Demirel University is a public university located in Isparta, Turkey.
The university is approved by the Erasmus programme for participation and funding. SDU is a member of European University Association.
This Erasmus+ (KA107) is an initiative of reciprocal exchange programme run by European Union.
It provides opportunities for students and staff to gain experience for international exchange.
The exchange duration will be from June 2021- July 2022
SDU have to obey the regulation from Erasmus Community to choose 3 Faculty to do exchange. SDU select FEM,FPQS,FSU for exchange.
The selected staff and students need to inform SDU Coordinator on the exact time to do exchange (this or next sem)
Candidates from all level of study can apply for the exchange, subject to the approval from the faculty.
Applicant will be NOMINATED by SDU as coordinator for KA107 Exchange
Acceptance Letter will be issued by SDU
The class will be conducted in Arabic and English, however student can choose to attend Turkish classes
Lesson plan will be provided once the selection has been made.
USIM is requested to send in applications on 30th June 2021.
Financial support for Erasmus+
This agreement will be supported by KA107 Budget.
Students will receive 800 Euro/month =RM3800*
Staff will receive 140 Euro/day =RM680*
Travel grant from USIM to SDU will be provided by Erasmus+ Coordinator 1500Euro = RM7000*
*Subject to currency exchange rate
Application for Students
For students: https://forms.gle/pqPyLQ3zV7fGAzVU8
Application for Staff
For Academic Staff:
https://forms.gle/nRZYk4XxK9WtEorc6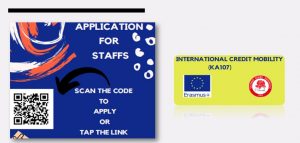 FAQ:
NO
QUESTION
ANSWER
1.
What is Erasmus exchange programme?
Erasmus exchange program is a well supported and organised scheme that has been in operation since the late 1980's. It allows for students to study at universities in the EU member states for set periods of time.
2.
Who can apply for the Erasmus exchange?
All USIM staff and students (including international staff and students) at any level of study with the approval from Faculty (FEM, FPQS & FSU)
3.
What is the duration of this exchange?
For students –  1semester

For staff – 1 week

4.
When will the grant be provided?
The grant will be provided once the applicant arrived and open the bank account in Turkey. The applicant need to use their own money first before funds are given
5.
What if the government did not allow for study abroad exchange?
This exchange procedure will be flexible depending on the current situation until 2022
6.
Can I withdraw once I have been selected?
You have to provide a reasonable cause of withdrawal to SDU Coordinator and your place will be replace by other candidate.
Extension Dates of Erasmus+ Exchange with Suleyman Demirel University
 Application dates: 15.06.2021(Tuesday)-23.07.2021(Wednesday)

Announcement date of staff selection: 29.07.2021 (Wednesday)

Announcement date of student selection: 30.07.2021 (Monday)